What Is It And The Benefits
Thinking of traveling abroad? U.S. health insurance benefits shrink or disappear when taken abroad. But you still can be comfortable even when you're out of your comfort zone. Take Geo Blue Medical Travel Insurance that responds anytime, anywhere.
The Travel Insurance plan will cover:
Physician Office Visits and RX
Hospitalization and Surgery
Worldwide Medical Evacuation benefits
Access to Profiled, Elite Providers in 190 countries who accept direct payment from GeoBlue.
Travelers are covered for the duration of their trip.  However, coverage can be extended once while the member is still overseas.  If you need help, you can access help 24 hours a day by phone, over the web or through the GeoBlue mobile application. With contracted, western-trained, English speaking doctors in 190 countries, GeoBlue can deliver cashless and paperless access for care.
Products
GeoBlue provides insurance coverage for a single or multiple-trip travelers, American expatriates, missionaries, crew members and students who live outside the US for over than 6 months. Below are the products and what they cover:
VOYAGER | Single Trip – Health and accident insurance for a single international trip.
TREKKER | Multiple Trips – Health and accident insurance for frequent travelers.
XPLORER | Long Term | Expatriate – International health plans that cover individual expatriate for a minimum of 6 month.
VOYAGER | Single Trip | Groups – Groups of five or more people qualify for a lower rate.
NAVIGATOR | Long Term | Education, Crew, Missionary – Worldwide health insurance for students and faculty, crew member, or missionaries or volunteers.
CORPORATE | Long and Short Term – International health plans for corporate expats and travelers.
Some plans require a primary health insurance in the US and exclude pre-existing conditions. If you have questions, feel free to contact me.
Rates And How To Apply
Surprisingly, GeoBlue plan rates are quote affordable based on your needs. For example, a 40-year old traveler in San Diego who will travel for a 10-day single trip in June 2017 will pay only $32.70 for $1,000,000 coverage and $0 deductible.
Interested? Get your quick quote without having to share your name or email address. Just enter in your brief information, click "The Get Quote" button and you'll get the rates right away. You can also apply online on the same website. Just hit the "Apply Button" and follow the instructions.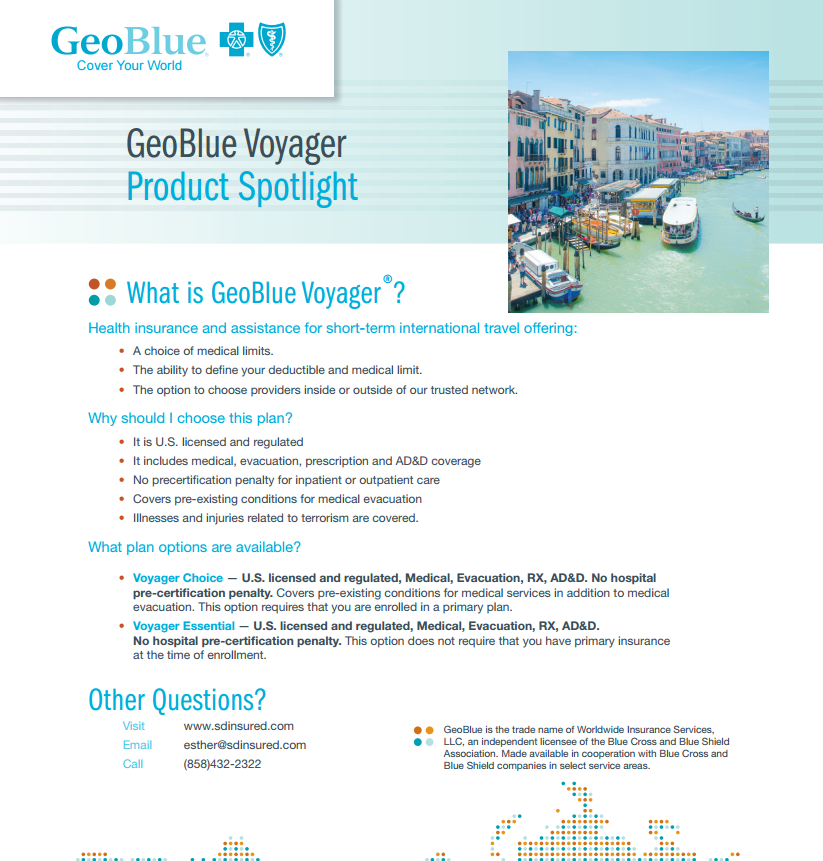 About GeoBlue
GeoBlue provides travel health insurance plans and assistance services to 650,000 travelers per year. GeoBlue programs are distinguished by a contracted community of over 8,000 elite providers in 190 countries.