Knowing the difference before you schedule an appointment may help you to avoid unexpected costs.
You probably know that having an annual check-up with your primary care doctor is a good idea for several reasons. A yearly appointment gives your doctor an opportunity to check on your general health, look for anything unusual and talk with you about your concerns.
However, the words "annual check-up" may not mean the same thing to everyone – especially if you have a Medicare plan. Medicare Part B, part of Original Medicare, covers annual wellness visits that may include basic preventive services, but they are not full head-to-toe physical exams.
"During a full physical exam, your doctor may listen to your heart and lungs, feel your neck and abdominal area, test your reflexes and more. If needed, your doctor may recommend lab work, such as a cholesterol screening or a thyroid test.
None of these are part of a Medicare wellness visit. Moreover, according to the Centers for Medicare & Medicaid Services, Medicare wellness visits cannot be used to directly treat an illness or chronic condition, such as diabetes or arthritis.
If your exam goes beyond the limitations of what Medicare covers, you may have to pay the full cost out of your own pocket unless you have a supplemental plan that covers what Medicare does not.
The services allowed during Medicare visits depend on how long you have been a Medicare Part B member. Review your plan to determine if you have Original Medicare, a Medicare Advantage plan, or Original Medicare with Medicare supplemental insurance.
Medicare Wellness Visit or Physical Exam?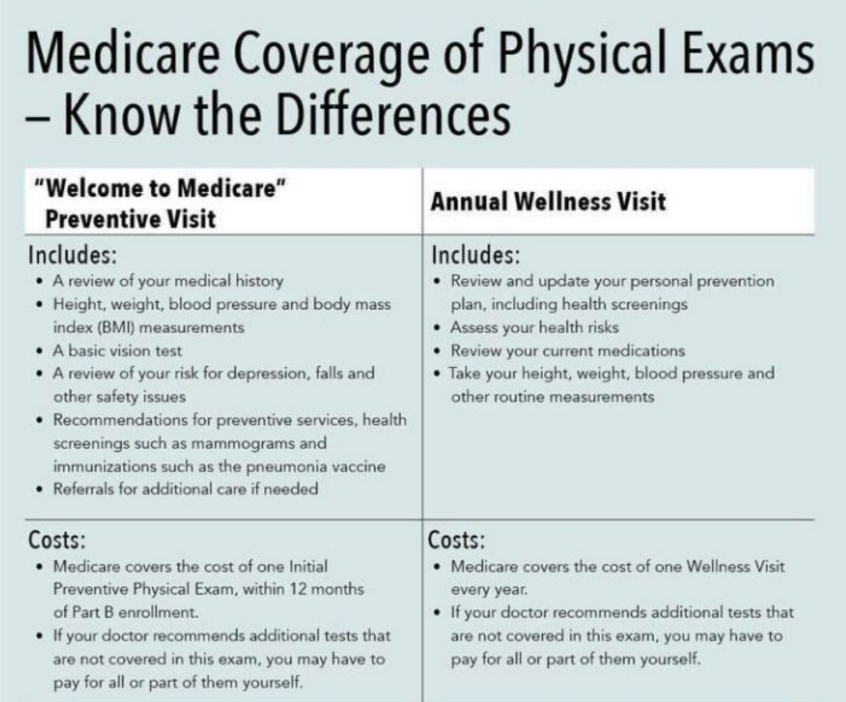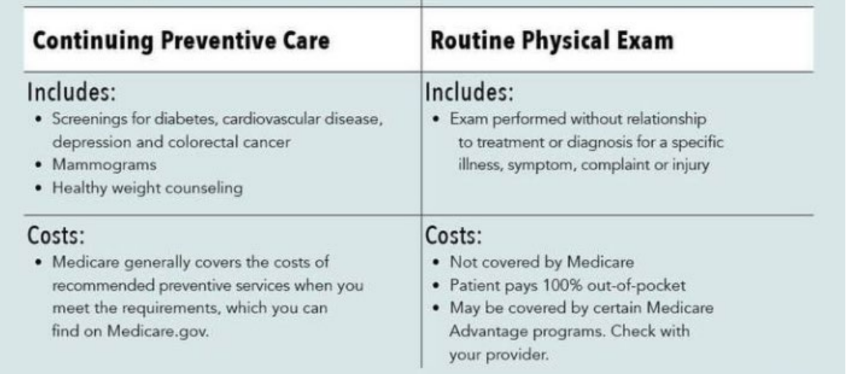 Tips to help avoid unexpected costs
If you want to schedule your annual Medicare visit, make sure you specify "annual Medicare wellness visit" when you call your doctor's office. If you just say "physical exam" you may be responsible for the cost.
Also, before you have any screenings or lab tests that are not part of the annual Medicare wellness visit, check to see if they are covered at the Medicare.gov website. If they are not, you may have to pay for them. You may also check with your Medicare broker or agent for more information.
"Of course, any time you have a health concern, call the office and let them know what is going on. Don't risk your health because Medicare won't cover the visit. Most doctors will work with you on payment plans or other arrangements.
Make the most of your Medicare coverage. Go to MyMedicare.gov to register for free services to track your preventive services and see a calendar of your covered tests and screenings.
This post is adapted from Scripps Health article. Copyright belongs to Scripps Health.